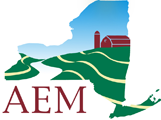 Need Help?
AEM is basic, it is a discussion of land management within the farming operation! The farmer steers the plan, through technical review with your District planner. At Wayne SWCD, we have a team of AEM program staff. Ron Thorn, Ag Field Program Manager and Ian Priestley, District Technician: Ag Resource Specialist are both Certified Crop Advisors and commodity planners. Call us at 315-946-7200
To become a part of the solution for water quality and soil health management, please print off and fill out a Tier 1 worksheet or stop in or call the office and we can get you one!
Tier 1 Worksheet
Farmers work with local AEM resource professionals to develop comprehensive farm plans using a tiered process :
Tier 1 – Inventory current activities, future plans and potential environmental concerns.
Tier 2 – Document current land stewardship; assess and prioritize areas of concern.
Tier 3 – Develop conservation plans addressing concerns and opportunities tailored to farm goals.
Tier 4 – Implement plans utilizing available financial, educational and technical assistance.
Tier 5 – Evaluate to ensure the protection of the environment and farm viability –
AEM is:
Voluntary – Farmers choose to participate.
Watershed-based – The AEM approach is carried out within the context of a holistic watershed planning effort whenever possible.
Customized farm-by-farm – Natural resource and business conditions unique to each farm are considered throughout the AEM process.
A Team Approach – AEM coordinates technical assistance from state, federal and local government programs, as well as the private sector.
Cost Effective – AEM targets program, technical, and financial resources to farms with the greatest potential for impacting the environment.
Statewide – The NYS Department of Agriculture & Markets and the NYS Soil & Water Conservation Committee secure funding for AEM, oversee the educational and training program for Certified AEM Planners, and provide standards and leadership for the program statewide.
Locally-led and implemented – The statewide AEM initiative grew from counties and local watershed groups adopting and refining the planning and implementation process used in AEM. County-level groups have responsibility for directing and carrying out AEM in their counties.
Tested and Science-based – The AEM planning process is based on well-established environmental planning processes. Environmental protection measures are based on scientific principles and research. Procedures are also provided to use and develop new, innovative approaches where appropriate.
Confidential – State law protects the confidentiality of AEM plans, on-farm surveys, and assessments filed with the NYS Department of Agriculture & Markets or County Soil & Water Conservation Districts.
To become a part of the solution for water quality and soil health management, please print off and fill out a Tier 1 worksheet or stop in or call the office and we can get you one!
Tier 1 Worksheet
For additional information on the AEM program and other technical tools for Whole Farm Environmental Planning please visit:
NYS Soil and Water Conservation Committee AEM Page