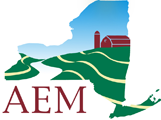 Hidden Canyon Farm participates in protection of Black Brook Watershed
Steve and Susan Olson own and operate a 40 cow/calf beef farm, specializing in high quality meat production. As stewards of the land, the Olson's farm falls directly within the critical areas of drainage for Black Brook, the headwaters of Butternut Run and Sodus Creek Watersheds. They are working with the AEM program to decrease pollution and improve farm operations.

The Olson's have implemented BMPs through Phase 2 & 3 of our watershed program to improve their barnyard water management and manure handling through a compost facility, along with implementing various individual practices through conservation water management on their crop fields to improve water runoff and filtration of daily operations. This in turn helps the farmers to focus on conservation of the land and water but also on the other needs of daily farm management.
The project was installed in the late months of 2013 and completed in the spring of 2014. Our Agricultural Specialist Terry Reynolds designed the project with farm management in consideration but focuses on water quality.
They are working with the AEM program to decrease pollution and improve farm operations