Wayne County Envirothon will be at the Montezuma Audubon Center on
April 17th, 2018 (NEW DATE)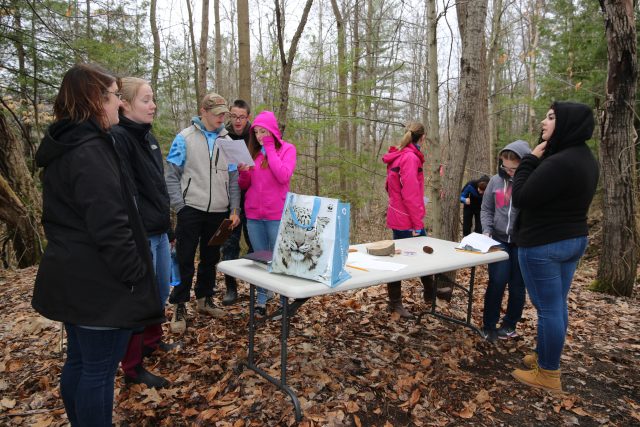 The NYS Envirothon, put on by the New York State Soil and Water Conservation Districts (SWCD) is a co-curricular scholarship program featuring a "hands-on" competition about environmental education.  The program was started in 1979 in Pennsylvania when it was originally called the Environmental Olympics. Each school that participates selects five students (9th through 12th grade) to attend the Wayne County SWCD Envirothon with the hope of going to the state or national level to win scholarships and other awards. Each member of the winning team will receive a $100 scholarship for future environmental education efforts.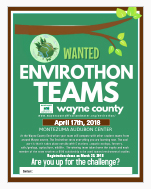 For more information contact Drew Starkey Drew@WayneNYswcd.org  315-946-7200
SIGN UP FOR THE 2018 WAYNE COUNTY ENVIROTHON
DOWNLOAD ENVIROTHON STUDY GUIDES

The 2018 Oral Presentation Problem: 
Western Rangeland Management: Balancing Diverse Views (2018)  For more information about Rangelands visit http://lifeontherange.org
Western rangelands include prairies and grasslands, sagebrush steppes, and woodland areas.  Rangelands comprise more than 40% of the total productive land base in the western U.S.  Rangelands sustain an abundance of forage for both livestock and wildlife, as well as providing aesthetic beauty enjoyed by many.  Rangeland resources are a critically important ecosystem component of the western US  landscape and are a vital economic factor for many agricultural producers.
Western rangeland management objectives include grazing, timber harvest, recreational uses (including hiking, camping, fishing, hunting, etc.) and mining.  Western rangelands are diverse and rich in natural resources and provide an essential fresh water source for all of the western U.S. Public land managers and agriculturalists work to protect these resources to ensure their sustainability for generations to come.
Envirothon Teams will learn about the importance of western rangelands, and the need for balance in management planning.  Livestock producers are an important economic driver in the western US, sustainably utilizing the rangelands to maintain a living and produce a valued product. As good stewards of the land, most livestock producers work to protect natural resources, including sage grouse habitat and prevent catastrophic wildfire.  Differences of opinion on management strategies of western public rangelands have resulted in escalating friction between Non- Government Organizations  (NGO's), political representatives, federal land managers, and permittees.  Disputes arising from this diversity of opinion often end up in the judicial system, through expensive and lengthy litigation.  This process does not lead to timely and effective land management decisions, nor does it foster good working relationships between stakeholders.  Federal land managers are placed in a difficult position, charged with consideration of multiple and often conflicting views, and are often seen as capitulating to one or other groups with extreme views. It is important that public rangelands be managed in consideration of all environmental, social and economic objectives, so as to provide the widest possible range of benefits.  A key factor in developing the best possible management strategy is honest and effective communication between stakeholders.
Envirothon teams will learn how Best Management Practices are used to protect western rangelands, improve grazing management schemes, promote pest management, reduce uncontrolled wildfires, and improve habitat for sage grouse and other wildlife.  Information provided and site visits will demonstrate the importance of finding the optimum balance between natural resource protection and agricultural use on western public rangelands.
Key Topics:
Grazing is a popular tool in western rangeland management. How can this tool be used to help manage the ecosystem?
What can management strategies help to reduce the spread and impact of noxious weeds?
How can western rangeland management have a positive impact on fire suppression, and how can the lack of management be a negative impact on fire suppression?
How can western rangeland management be used to maintain a balanced plant community to support livestock, sage grouse, as well as other wildlife and land uses?
How can rangeland managers balance livestock production (grazing) with the maintenance of water quality?
How can stakeholders with different values and opinions improve communication and working relationships to develop improved rangeland management strategies?
Learning Objectives:
Information and examples provided will help Envirothon Teams understand the following:
Characteristics and location of rangeland in the Western United States and how it is currently managed.
The percentage of land in the west that is federally controlled and allows multiple resource use.
Ways to protect water quality within western rangeland management.
How grazing is used as an effective management tool to control noxious weeds, reduce catastrophic wildfires, and improve wildlife habitat.
The current Best Management Practices (BMPs) for western rangelands and how they support livestock production, pest management, fire suppression, and wildlife habitat maintenance.
How different ecosystems (wetland, riparian, and upland areas) within the rangelands interact.
How the use of the land by humans, domestic livestock, and wildlife affects the plant community.
The rights of private landowners and citizens' related to public land.
---
EXAMPLE ORAL PRESENTATION VIDEOS
Envirothon encompasses all topics covered in biology, life sciences, earth science and environmental education. Wayne County SWCD is always looking to partner with the local school districts to develop an Educational Envirothon Program to not only better prepare our students for success at the competition, but also to give students a glimpse into a career pathway of natural resources and a fun environmental experience in the community.
BROCHURES
About the Envirothon Program
The idea:
To establish an Envirothon prep program within the schools current science curriculum or as an extracurricular activity for students.
How many students can participate in the program?
Even though each team consists of only five students to compete, but can qualify if only 3. At the local level Envirothon, each school can have up to three different teams. Also, the class or club can be offered to additional students interested in the environment."  To "Each team consists of 3-5 students. Each school can sponsor up to a total of 3 teams for a total of 15 students from each school. Note: many school teams have one alternate as a backup replacement.
How do you select the five competitors?
This can be decided by the school! Some suggestions: have the teacher decide, have the students vote, or choose the five students with the highest grade in the class to compete.
What are the important dates?
Registration: Teams need to be registered by Friday March 23, 2018 (Click here to register)
Event Date: Wednesday April 17 th, 2018
NY State Envirothon May 23, 24th, 2018
FAQ
What will the Wayne County SWCD provide for you if you set up a program at your school?
A foundational outline for setting up your course
Information on where to get supplemental materials and resources for developing lesson plans
A list of sample activities for your class
Yes, you many request a SWCD guest speaker presentations or field activities
What will the school need to provide?
A class teacher or club adviser
Transportation to field activity sites and to the Envirothon
Classroom and materials
Sample Course/Club Schedule:
October November: Aquatic Ecology
Mid November: Soils and Land Use
December – Mid January: Wildlife
Mid January – February: Forestry
March and April: Current Issues/Oral Presentation Prep/Practice and review
April/May:Envirothons(Specific dates TBA)
April/May/June(After Envirothons): Reflection/Community Projects