The 2020 Wayne County Envirothon will be at the Montezuma Audubon Center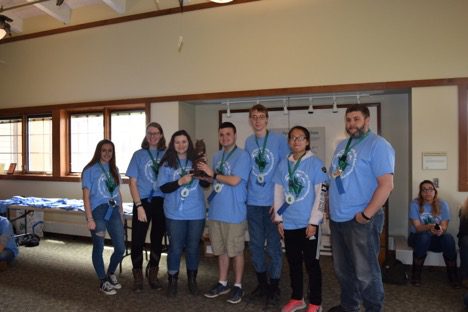 Congrats to North Rose Wolcott for winning the 2019 Wayne County Envirothon.
Check back for 2020 details.
For more information contact Drew Starkey Drew@WayneNYswcd.org  315-946-7200

DOWNLOAD ENVIROTHON STUDY GUIDES
---
EXAMPLE ORAL PRESENTATION VIDEOS
Envirothon encompasses all topics covered in biology, life sciences, earth science and environmental education. Wayne County SWCD is always looking to partner with the local school districts to develop an Educational Envirothon Program to not only better prepare our students for success at the competition, but also to give students a glimpse into a career pathway of natural resources and a fun environmental experience in the community.
BROCHURES
About the Envirothon Program
The idea:
To establish an Envirothon prep program within the school's current science curriculum or as an extracurricular activity for students.
How many students can participate in the program?
Even though each team consists of only five students to compete, but can qualify if only 3. At the local level Envirothon, each school can have up to three different teams. Also, the class or club can be offered to additional students interested in the environment."  To "Each team consists of 3-5 students. Each school can sponsor up to a total of 3 teams for a total of 15 students from each school. Note: many school teams have one alternate as a backup replacement.
How do you select the five competitors?
This can be decided by the school! Some suggestions: have the teacher decide, have the students vote, or choose the five students with the highest grade in the class to compete.
What are the important dates?
Registration: Teams need to be registered by Friday, March 29, 2019 (Click here to register)
Event Date: Wednesday, April 23, 2019 8:30 A.M.
NY State Envirothon May 22, 23th, 2019
FAQ
What will the Wayne County SWCD provide for you if you set up a program at your school?
A foundational outline for setting up your course
Information on where to get supplemental materials and resources for developing lesson plans
A list of sample activities for your class
Yes, you many request a SWCD guest speaker presentations or field activities
What will the school need to provide?
A class teacher or club adviser
Transportation to the Envirothon
Classroom and materials
Willing participation by students.
Sample Course/Club Schedule:
October November: Aquatic Ecology
Mid November: Soils and Land Use
December – Mid January: Wildlife
Mid January – February: Forestry
March and April: Current Issues/Oral Presentation Prep/Practice and review
April/May:Envirothons(Specific dates TBA)
April/May/June(After Envirothons): Reflection/Community Projects