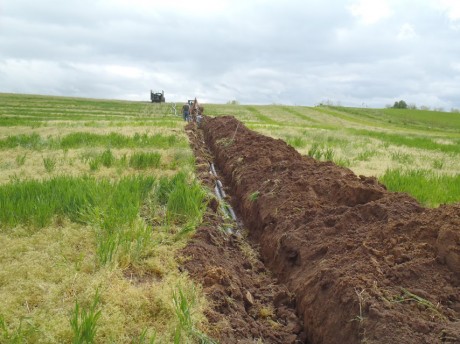 The Agricultural Drainage program is designed to provide critical drainage for areas of significant flow and possible pollutant concentration.
Agricultural drainage is the removal of excess water from the soil surface and/or soil profile of cropland, by either gravity or artificial means. The two main reasons for improving the drainage on agricultural land are for soil conservation and enhancing crop production.
Since 1988, the District has been providing services for agricultural drainage in conjunction with Wayne County as the sponsor of the program. With over 65 projects now on the books, the District spends a majority of the time maintaining the existing infrastructure and provides technical assistance with limited financial assistance for new projects.
Our office does provides technical assistance and review of drainage concerns, along with wildlife considerations such as beaver or muskrats.
For other inquiries about the program, please Chris Hotto: Chris@WayneNYswcd.org

Annual Reports
Case Studies
Agricultural Drainage Photos