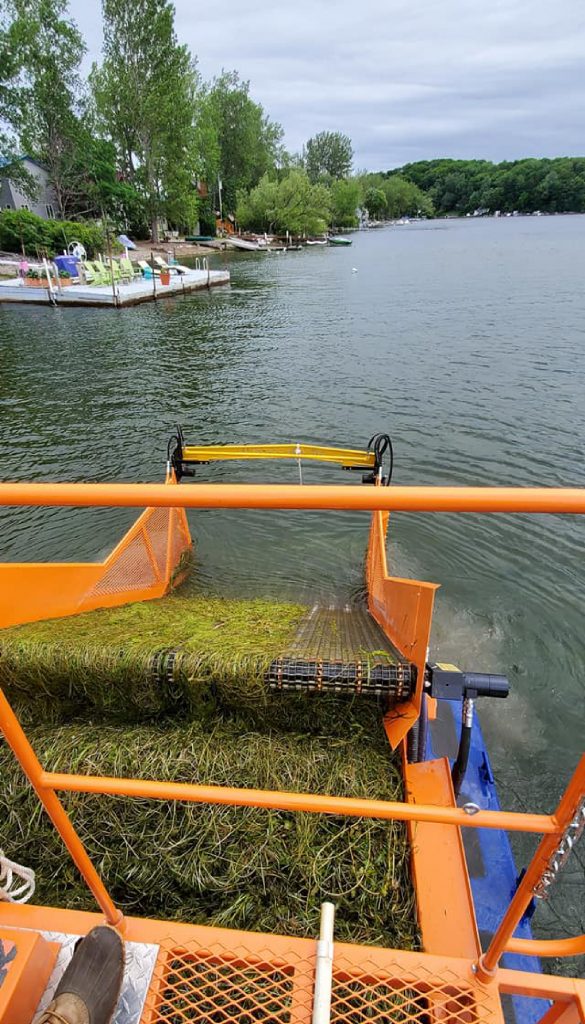 Aquatic Vegetation Control (AVC) (aka Weed Harvesting)
The Aquatic Vegetation Control program began in 1987 with one harvester with a goal of better understanding how the non-point source nutrient pollution from invasive species die off would impact water quality in partnership with the Finger Lakes Lake Ontario Watershed Protection Alliance.  The program was specifically targeting a water chestnut infestation, in the Lake Shore Marshes Wildlife Management Unit: South of Sodus Bay Bridge.   Since then the program has adapted to address different water quality issues based on aquatic plant invasive species, water flow from tributaries to increase water circulation and access to open water.
Mission: The District will mechanically and selectively harvest areas of invasive species to manage the embayments of Wayne County.
Vision: The management of critical aquatic invasive species, where impact to the environment and potential spread impedes access, uses, and overall water quality; and to address in-flow areas of the tributary streams to promote water circulation and aeration.
The program has a science foundation and is meant to evaluate water quality by weed management.  There are many different life forms that live and use the waterbodies of Wayne County. Part of the process is about understanding the weed types, life cycles, nutrient contribution, habitat, densities, and potential water flow restriction in the specific areas. Weed colonies do play an important role in a healthy waterfront and balanced water quality.  All the embayments of Wayne County are different and unique. Each provides habitat and recreation to 1000's species, (not just humans, but humans included).  The District tried to balance access to deeper water for recreation and public safety through flow while trying to support the natural ecosystem of other industries such as recreational and sustainable fishing. Many people from Wayne County support their families through fisheries activities. It is important to maintain areas for fish populations to grow and prosper over the 3-4 year growth periods depending on the species.
Questions & Answers (as of 7/29/2022
In addition, the District program is run on a cost-shared contract from Wayne County and New York State's Environmental Protection Fund through the Finger Lakes Lake Ontario Watershed Protection Alliance (FLLOWPA). These two entities prioritize water quality, flow management, and public safety.  Each year is different. This year is no exception.
Current Plan for AVC Program for 2022 (as of 8/2/2022)
The calendar on this web page is updated in real-time as District Staff complete assessments. Regular conversations and updates are being sent to the leaders associated with Sodus Bay Improvement Association, Save Our Sodus, East Bay Improvement Association, Port Bay Improvement Association, and Blind Sodus Bay Improvement Association.
Policy updates coming soon…..
Annual Harvesting Results
AVC Results 2005-2021

Learn more about the weed harvesting process and what you can do to help.
Wayne County Bays serviced