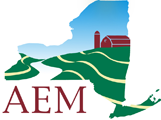 Mouton Farms help in protection of  Sodus Creek
Scott and Amanda Mouton operate a family dairy farm and farm directly within the critical areas of drainage for Sodus Creek. The Moutons have implemented Best Management Practices (BMPs) through Phase 1 of our watershed program to improve their manure storage facility, along with implementing various individual practices through conservation tillage and field rotation.
The 100-cow dairy has made improvements in its barnyard area and storm water control improvements at the farmstead and in adjacent fields.
The project was installed in the late months of 2011 and completed January of 2012. Agriculture specialist Terry Reynolds designed the project with farm management in consideration. He stated, "The area near the bunk silo previously was unstable with no hard surface to provide a cleanable surface for spilled silage. This allowed clean water to mix with dirty water and mud. The project that was designed to take care of the problem consisted of installing millings and grading and shaping to redirect surface water. Implementation of these project stabilized the soil and prevents water contamination and runoff into the flow path of Sodus Creek.
Implementation of all three of these projects limits nutrients, manure, silt/sediment, and pathogens from Sodus Creek.