Funding is Part of Governor's $2.5 Billion Clean Water Infrastructure Act
Program Will Help Livestock Farmers in 25 Counties Meet New Environmental Requirements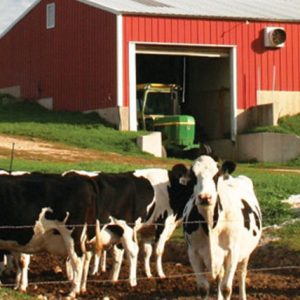 Governor Andrew M. Cuomo today announced that $20 million has been awarded to implement water quality protection projects on 56 farms across the state. The funding was provided through the first round of the Concentrated Animal Feeding Operation Waste Storage and Transfer System Program. It supports projects that will allow livestock farms to better manage and store nutrients, such as manure, to protect ground water and nearby waterways. The program is a part of the Governor's historic $2.5 billion Clean Water Infrastructure Act of 2017 which invests an unprecedented level of resources for drinking water, wastewater infrastructure and other water quality protections statewide.
"Agriculture remains a key part of New York's economy and this funding will help farms in every corner of this state protect drinking water supplies and waterways, while also remaining competitive," Governor Cuomo said. "With this program, we are supporting New York's economy and ensuring our essential natural resources are preserved for years to come."
Through the program, 61 waste storage and transfer systems will be installed on CAFO-permitted farms in 25 counties throughout the state. Grants will help offset the cost of construction, site preparation and associated best management practices. Funded projects will also help farmers meet the New York State Department of Environmental Conservation's new environmental requirements first announced in January of this year.
The funding is being provided to County Soil and Water Conservation Districts, which applied on behalf of eligible farmers, in the Capital Region, Central New York, Finger Lakes, Mohawk Valley, North Country, Southern Tier, and Western New York Regions. A list of the award totals is available here.
State Agriculture Commissioner Richard A. Ball said, "The Governor's historic clean water initiative is critical to ensuring the quality and sustainability of our natural resources and our farms. We received more applications than we were able to fund through the first round of this program, which shows the strong commitment of our livestock operations to environmental stewardship. We look forward to releasing the second Request for Proposals in the coming year to benefit even more farms as they strive to maintain nutrient recycling year-round."
DEC Commissioner Basil Seggos said, "New York's farmers are among our state's strongest environmental stewards with a keen understanding of the critical role natural resources play in maintaining a safe and healthy environment. Governor Cuomo has established one of the nation's most aggressive environmental agendas that prioritizes protecting water quality. These grants from the historic $2.5 billion Clean Water Infrastructure Act will help our State's hardworking farm families safeguard our water quality while ensuring the economic well-being of New York's agricultural community."
New York State Soil and Water Conservation Committee Chair Dale Stein said, "This grant program will assist dairy and livestock farmers to better protect critical natural resources and to meet the State's important environmental regulations. Local Soil and Water Conservation Districts are excited to partner with farmers to implement these projects and promote best management practices across the state."
New York Farm Bureau President David Fisher said, "The grant money under the Governor's water infrastructure plan will build on the agricultural community's strong record of environmental stewardship. The cost sharing assistance provides more flexibility on farms to manage nutrients, which helps protect water quality for all New Yorkers. New York Farm Bureau appreciates the public-private partnership, especially as livestock farmers are putting new environmental management plans in place to meet tougher CAFO regulations."
Senator Patty Ritchie, Chair of the Senate Agriculture Committee, said, "One of the biggest responsibilities our farmers have is to be good stewards of the land and other natural resources they use. Through this funding, our state's hardworking farmers can continue the important work they do to support New York's leading industry, and at the same time, continue their efforts to be leaders when it comes to implementing environmentally safe practices. I would like to thank Governor Cuomo and Commissioner Ball for their continued support of our farmers and entire agricultural industry."
Senator Tom O'Mara, Chair of the Senate Environmental Conservation Committee, said, "These are wise state investments to keep our farmers competitive and, at the same time, protect our natural resources for the long run and strengthen local economies. We're investing in the long-standing and successful partnership between local farmers and local conservation districts to achieve vital economic and environmental protection goals."
Assemblyman Bill Magee, Chair of the Assembly Agriculture Committee, said, "New York State is a leader in the agriculture industry and farming is essential to our region's economy. This funding ensures that farmers across the state can comply with new regulations that were designed to ensure our waters remain clean. These water projects will keep our water safe for future generations."
New York State has more than 500 CAFO farms, most of which are dairy farms with 300 or more cows. CAFOs can also include other livestock operations such as beef, poultry and equine farms that meet regulatory thresholds. Grant funding for the CAFO Waste Storage and Transfer System Program is available over three consecutive application rounds. The Department of Agriculture and Markets will launch a second and third application period for an additional $15 million in both 2018 and 2019.
In addition, the Department of Agriculture and Markets along with the Department of Environmental Conservation have developed an informational document to educate communities on the importance of manure storage facilities to maintain New York State's environmental standards. Manure storage provides farmers with more flexibility to apply manure at optimum times—after a crop is harvested and when weather and field conditions present a low risk of run-off—for efficient uptake and recycling by crops.  Storing manure makes it possible for farmers to better achieve a higher level of nutrient management and maintain environmental protections. The fact sheet can be found here.
The Clean Water Infrastructure Act of 2017 invests a record $2.5 billion in critical water infrastructure across New York State. This historic investment in drinking water infrastructure, wastewater infrastructure and source water protection actions will enhance community health and wellness, safeguard the State's most important water resources, and create jobs. Funding for projects will prioritize regional and watershed level solutions, and incentivize consolidation and sharing of water and wastewater services.