The 2022 Wayne County Youth Derby 
In its 25th year, the Wayne County Youth Fishing Derby begins Friday June 17th. 2022. This is a long standing tradition to start on Father's Day weekend.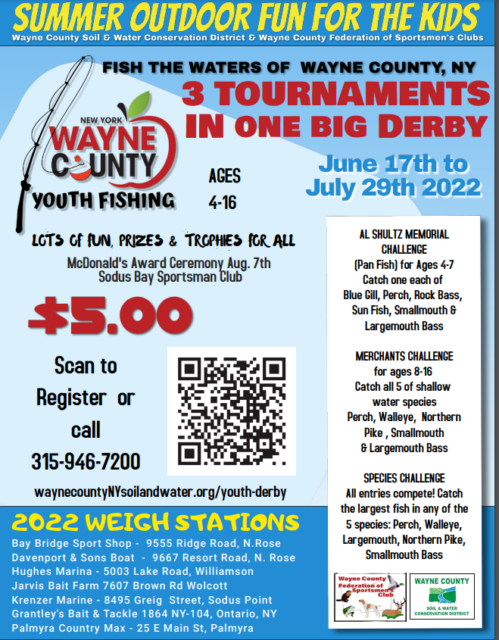 There are 3 major areas of competition
Species Challenge: Open to all 4-16. Anglers entering the largest fish (by weight) in each of the 5 eligible species will receive prizes and trophies. The five species are as follows: Walleye, Perch, Northern pike, Smallmouth & Largemouth bass.
Panfish Challenge: To be eligible for prizes in the Al Shultz Youth Memorial Challenge, youth must be between the ages of 4-7 at the time of registration. Anglers must catch one of each of the five species: Blue Gill, Perch, Rock Bass, Sun Fish and Smallmouth or Largemouth Bass
Merchants Fishing Challenge: To be eligible for prizes anglers must be between the ages of 8-16 at the time of registration. An angler must catch and enter one fish in each of the following five species: Northern pike, Walleye, Smallmouth bass, Largemouth bass and Perch.
The Derby registration fee is $5.00. Anglers can register in advance starting on June 2, 2022 at one of the weigh stations with cash, or online at the WCSWCD website using a credit card. Fish must be of legal size and caught in the waters of Wayne County.
The Derby end at sundown on July 29th. The highlight on the event is the McDonald's awards ceremony. For 2022 the Awards ceremony will be held on August 7th at the Sodus Bay Sportsmen Club located in Sodus Point. The Derby committee has a great event planned for 2022 with many prizes and activities.
The Derby is supported by the generous support from McDonalds, Wayne County area business and tackle manufactures. For more information contact Maxine Appleby at 315-946-7200 (daytime) Weekend 414-224-9462.