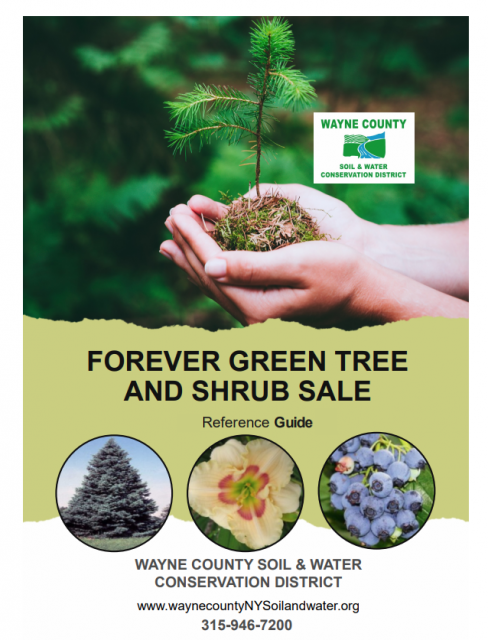 The 2022 Annual Forever Green Tree & Shrub is Underway!
The District offers varieties of low-cost bare root seedlings and transplants, conifers, deciduous trees, bushes and shrubs, fruit plants, conservation packs, habitat boxes, and other products.  All plants are grown by private commercial nurseries, these plants provide an economical source of conservation landscaping materials, windbreaks, and quantities for reforesting. Offering these trees, shrubs and plants helps support conservation planting projects, wildlife enhancement, erosion control, and windbreak development needs throughout the area.
How to order?
1. Shop Online! You can purchase online and check out via our store. All major credit cards accepted.
2. Print Form (Fill in and Print) Fill out a form and print and mail your order with a check.
Download a catalog
3. Call our office and place an order over the phone 315-946-7200 ( due to covid we have limited staff) you can email drew@wayneNYswcd.org for a callback
Order with payment due Friday, March 4th
PICKUP DATES & TIMES
Wednesday, April 20, 2022 Noon-7 PM
Thursday, April 21, 2022 8:00 AM – 5:00 PM
Friday April 22, 2022 8:00 AM – 5:00 PM
PICKUP LOCATION
7312 Rt-31. Lyons, NY 14489
Additional Resources