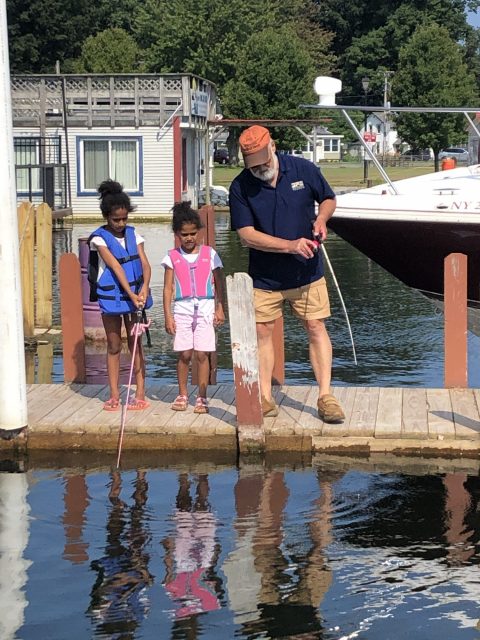 Wayne County Soil and Water Conservation District and the Federation of Sportsmen Clubs are pleased to announce the 22nd Wayne County Youth Fishing Derby for anglers ages 4-16. The event runs June 19th-July 26th and covers the waters in Wayne County. 

Responsible local conservation recreation is a crucial part of continuing to help New Yorkers stay active and a great way to spend time with immediate household and family members while building lasting memories of having that "FISH ON". Social distancing and masks encouraged.
New this year, the Ontario and Palmyra County Max stores will be weigh in stations. Both stores sell bait are a perfect way to expand fishing opportunities on the Erie Canal and Lake Ontario west. Other stations are Jarvis Bait Farm, Krenzer Marine, Hughes Marina, Davenports, and Bay Bridge bait shops.
The Youth Derby is designed as three tournaments in one.
• AL SHULTZ MEMORIAL CHALLENGE is for youth ages 4-7 years of age. Anglers compete to catch the most pan-fish; Blue Gill, Perch, Rock Bass, Sun Fish. Although the fish, other than perch do not need to be weighed anglers must complete a fish entry form.
• MERCHANTS CHALLENGE is for youth anglers ages 8-16 and is considered the "Grand Slam" – Catch all 5 of shallow-water species Perch, Walleye, Largemouth bass, Northern pike & Smallmouth bass for the grand prize.
• SPECIES CHALLENGE is open to all entrants. In this derby, anglers compete to catch the largest fish in any of the 5 species: Perch, Walleye, Largemouth, Northern Pike, Smallmouth Bass
The entry fee is $5.00. Prizes will consist of merchandise and trophies. The prize structure is based on the number of registered entrants.
The District will be accepting payments by cash or check, registrations are being taken online and paid using any major credit card. The entrant's registration number is generated at checkout. For those without WIFI, the Jarvis Bait Shop, Ontario Country Max and Palmyra County Max will all have WIFI enabled tablets available for online registrations starting on June 12th.
According to Maxine Appleby, Conservation Specialist" No angler will be left behind." The District will provide opportunities to any youth between the ages of 4-16 that does not have the means to enter the derby.
Special arrangements can be made by calling the office M-F at 315-946-7200 by July 3.
Thank you to McDonald's of Wayne County for their continued support along with  PJ Unisex Salon, Lyons National Bank, Sodus Rotary, Katlynn Marine, Rubinos on the Bay, Sodus Point Pit Stop, Martin's Tideside Marine, Ashley Insurance, Lyons Veterinary Clinic, Clingerman Taxidermy, Dynalec Corporation, Fishin Magician Charters, Patons Sodus Market, Humbert Farms, KC Baily Orchards, Farm Bureau of Wayne County, Dobbin's Drugs, Ely & Leene Insurance,  Hughes Marina, Joey's Northside Grocery, Fowler's Marina, Key's Energy, Krenzer Marine, Port Bay RV Park and Campground, the Steger Haus, Termatec Molding, Wayne County Tourism, Wayne County Soil & Water Conservation District, Wayne County Federation of Sportsmen Clubs, Sodus Bay Sportsman Club and of course, all the bait and weigh stations.
Participants will enter fish personally caught only in the Wayne County, NY in the waters of Lake Ontario (1/2 mile west of Ginna Plant and east to Blind Sodus Bay) and its embayments; the waters of the Erie Canal and streams located in Wayne County, NY in accordance with all NYS Department of Conservation Fishing Rules and Regulations. Participants must have a valid NYS fishing license unless exempt by law.
The Derby Awards Banquet, sponsored by McDonald's of Wayne County is on August 15th at the Firehall in Sodus Point where prizes and trophies will be awarded. The Federation of Sportsmen Club and the District are working out ways to practice social distancing but still provide awards and prizes to youth anglers.
To register for the Youth Derby visit https://waynecountynysoilandwater.org/youth-derby/