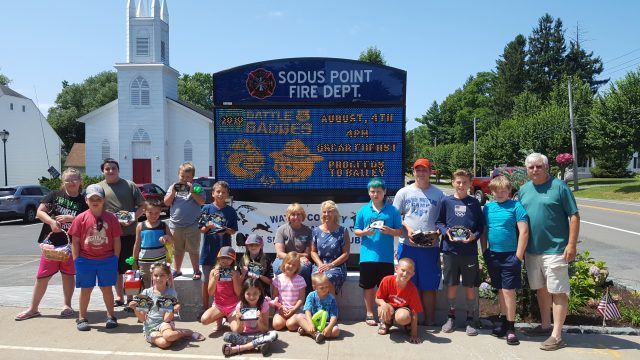 Wayne County Soil and Water Conservation District and the Wayne County Federation of Sportsmen's Clubs awarded trophies and prizes to over 50 youth anglers at the Wayne County Youth Fishing Derby (YFD) awards ceremony held earlier this month.
The fishing derby had over 55 youth angler participants from ages 4-16. Anglers could register fish at bait and tackle shops and marinas around Wayne County. The Derby had three separate contests in one. Trophies and plaques were sponsored by McDonalds of Wayne County and presented by owner, Nancy Wilkes.
The prizes awarded to anglers ages 7-16 are for 1st thru 6th place in the Species Challenge; Largemouth and Smallmouth Bass, Northern Pike, Walleye and Perch. Noah Wazinski won the Merchant's Challenge. Noah had to land one of each species for a grand slam; in speaking to Noah's Dad and the weigh-in stations, he (Noah) fished just about every day!
In the Al Shultz Memorial Challenge, Jillian Thomas and Login Smith were winners. Both under the age 7. They both registered Blue Gill, Rock Bass, Sunfish and Perch to take home trophies. New this year was the "Captain' Larry award given to the youngest angler Alexander De George of Williamson, age 4. Larry LaForce, a dedicated member of Wayne Co. Federation of Sportsmen, passed away unexpectedly in 2018. Larry loved everything fishing and was an active volunteer every year at the awards event. In addition, the "Most Dedicated Angler" award went to Jaelyn Knapp. The final scores are available click here
Special thank you to all of the sponsors and donors who put big smiles on the faces of the youth anglers in Wayne County. McDonald's of Wayne County supplies the trophy awards every year. The Rotary of Sodus sponsored 18 youth from the Village of Sodus Point summer recreation program. Most of the program participants had never fished before the event and learned how to put bait on a hook and the practice of catch and release. Walt Crum thrilled the crowd with his imaginative balloon creations. Paton's Marketplace supplied everything on the grill and the Sodus Point Fire Department for the venue. B&E Tackle, Chill and Grill, Davenport's Tackle, Finger Lakes Prism, Lake County Taxidermy, Lyons National Bank and Wayne County Tourism donated baskets for the raffle.
Without the support of the following generous sponsors, this annual event would not have taken place. They include: Arney's Marina, Bay Bridge Sport's Shop, B&E Tackle, Captain Jack's, Davenport and Sons Livery and Marina, Zip N Zim Sportfishing, Fishin Magician Sportfishing, Port Bay RV Park and Campground, Hughes Marina, Krenzer Marine, Clingerman Taxidermy, Dynalac Corporation, Steger Haus Restaurant, Joey's Northside Grocery and Ely & Leene Insurance Agency.
The Wayne County Federation of Sportsmen and the Wayne County Soil and Water Conservation District are looking forward to the 2020 event.
If you are interested in sponsorship, please contact the District 315-946-7200.