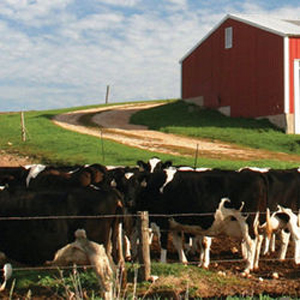 Program Will Help Large Livestock Farmers Meet New Environmental Requirements
Governor Andrew M. Cuomo announced that $50 million in grant funding is available, over three consecutive application rounds, to help New York livestock farms implement water quality protection projects. The funding is a part of the Governor's historic $2.5 billion Clean Water Infrastructure Act of 2017, which invests unprecedented resources for drinking water and wastewater infrastructure and other water quality protection across the state, including funds to ensure proper management and storage of nutrients such as manure on farms.
"By providing New York's farmers with the resources they need to be successful, we are supporting New York's economy and growing jobs while taking steps to protect the state's vibrant natural resources," said Governor Cuomo. "This funding is critical to ensuring New York's water is preserved and protected while helping farmers across the state to meet environmental standards to secure a cleaner and healthier tomorrow for all."
County Soil and Water Conservation Districts can apply for the CAFO Waste Storage and Transfer System Program on behalf of eligible farmers. The maximum award amount per proposal is $385,000, which includes funding for engineering and construction expenses. Grants will help Concentrated Animal Feeding Operation-permitted farms offset the cost of water quality protection projects, such as manure storage construction, site preparation and associated best management practices.
New York State has more than 500 CAFO farms, most of which are dairy farms with 300 or more cows. CAFOs can also include associated livestock operations such as beef, poultry and equine farms. Projects funded will also help farmers meet the New York State Department of Environmental Conservation's new environmental requirements first announced in January.