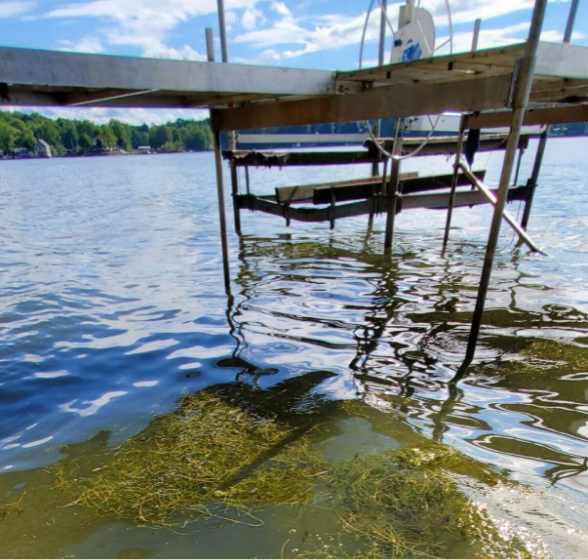 Blessings come in small packages as varying temperatures approach for a break in the heat this holiday weekend. It is important to the water quality to have these periodic weather changes to keep balance within the living embayments, streams, creeks and rivers. While we all love warmer temperatures for recreation but this "break" will provide some relief for a potential full Bay turn in the middle of holiday weekend.
Current conditions on all 6 embayments in Wayne County are ecologically ahead of schedule; about 3 weeks across the County. What does that mean? It means that each season the changes seen in the water vary as the season progresses. It includes different types of water (i.e. wave conditions, turbidity, temperature), weed types and growth patterns, fish frequenters (regular species and lake species that come into feed) and other creatures of the waterfront.  Already this year due to the low Lake Ontario levels at 245.16 average on the southern shore today (can be viewed https://tidesandcurrents.noaa.gov/map/) each inland embayment is seeing shoreline changing due to increasing low water with less contribution rates from the Great Lake and the tributaries that feed them.  Since May 28, 2021, the Lake has been stable due to triggers from the Lake Action Management Plan (LAMP) and will remain this way through mid-July.
District staff are currently seeing different stands of weeds developing without the first growth actually dying off and turning over year; which compounds water flow problems and could lead to other WQ issues.  It is expected to see a full turn on Sodus, Port Bay and Blind Sodus Bay sometime in the next week. The cooler temperatures will impact the weed breakdown which may make the turn less noticeable if wind and water circulation continue.
Natural Algae develops as submerged aquatic plants begin to die. This is an indicator of nutrient excretion from the plan which is what prompts algae growth before it recycles to the bottom of the bay and new growth begins. This is the cycle turn.  As the Algae ages it floats up in the water column until it reaches the surface before the wind and wave push it to the bottom and pull waters from the bottom to the top. This happens on average 3 -5 a year depending on depth and weather conditions.
Low water was expected this year due to last year's drought conditions and low snow accumulation totals on both the south and to north.  It was unexpected to how it will progress.  Starting 6/1/2021, the District has been doing inspections on each of the embayments and having conversations with the affiliated associations. If you are in need of more information, contact your waterfront association for details.
Key message – keep your water moving! If possible, limit boats, tubs, rafts, jet skis and other water recreation apparatus in the water when not in use to allow for weed not to collect in them and cause less circulation and heat incubation.
Bay Breakdown:
Sodus Bay – access is tricky due to low water and infrastructure. Plan to slow down and be mindful of sediment movement that has occurred due to the low water.  Water temperatures are warmer but the fish are still there in areas where there are deeper waters and weed stands. Counterproductive, yes.  Along Crescent Beach and the Island area the weeds have been dense. The harvesting program has worked from Margareta Launch to Northern LeRoy Island areas to remove as many weeds as possible with access (which is troublesome). Why haven't they clear cut? Because we are trying to manage over 1000 acres of flow and fisheries. A serpentine pattern was cut through the weed barriers to allow water flow. Some additional break off will occur because of the disturbance.
East Bay – looks pretty good but evaporation rates are going to have an impact. Make sure to be mindful of sediment and structure movement due to the already shallow nature of the embayment on the western areas. June 4, 2021 EBIA reported their chemical treatment was applied and so far vegetation growth does not look bad.
Port Bay – Overall the north-end recreation areas look good. Be careful of sediment movement as there are a few areas that went from deep to very very shallow along the northern eastern side. Wolcott Creek inlet near the South NYSDEC Launch (closed) has large die off of weeds which were matted and collection as of Monday, June 28th. The lack of rain in this area is not producing much contribution to water levels in the Bay. If you have dock areas on the southern end, graves point, Thompkins point, along the N. Maple Rd, and some of the smaller roads on the east side, please try and mitigate material in dock areas by raking it and letting it dry.   It isn't the best thing to do on a holiday weekend but it may help preserve non toxic and potentially toxic algal blooms within the next few weeks.
Blind Sodus Bay – has several stands of three types of early season weeds that are in the process of maturity right before the holiday and the bay will turn over probably this weekend. Small Pond Weed, Magnus and Curly Pond Weed are what can be viewed in the below photos. These are low growing weeds that look larger due to the lack of water. At maturity they are about 24-36''. In a three week period the stands have gone from growth, to maturity and now recycling as you begin to see the feathering of algae growing on them.  Weed mats, while more than the last two years, will die off in the next week.  There was an ale wive die off the first stretch of 90 degree weather three weeks ago. Technical staff saw reminisce along the eastern shoreline which probably contributed to the rapid aging of the stand.
Maxwell Bay – very shallow even for kayakers. Do not try to get out and stand up it is muck full of botulism spined water chestnut seeds. Stick to the creek channel center and you can access the lake.
Canal and Seneca River – waters are still being held back due to maintenance unable to be managed in 2020. Minimal flow is occurring and good for fishing and small craft access at various locations.