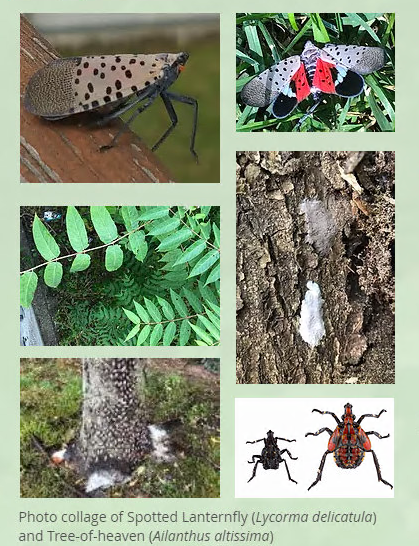 Spotted lanternfly (SLF) is an invasive pest from Asia that feeds on a variety of plants including grapes, hops, and maple trees, posing a severe threat to NYS forests and agriculture (more info). SLF's preferred host plant, Tree-of-heaven (TOH), is already found in much of the state. SLF was first found in PA in 2014, and several populations have since been found in NY. Agencies and conservation partners across the state are working to protect our state resources from these invasives, and we are requesting help from volunteers to complement these efforts.
Tuesday, February 23, 2021
Register for the webinar below
Volunteers needed:

SLF management actions are more effective and regions can better prepare for the impacts of this insect when new infestations are found early.
New York State is seeking volunteers like you to look for SLF and TOH in your area. You can supplement NYS efforts to prevent negative impacts from invasive species by knowing what to look for and how to report observations to New York's official invasive species database, iMapInvasives.
NYS Department of Agriculture and Markets and the Office of Parks, Recreation, and Historic Preservation have identified 1km grid squares across the state where volunteer survey efforts would be most helpful. These may be close to known infestations, along major pathways, and/or near important commodities that could be harmed by SLF. Use the interactive map below to sign up for a grid square and survey one or two areas within that are publicly and safely accessible.