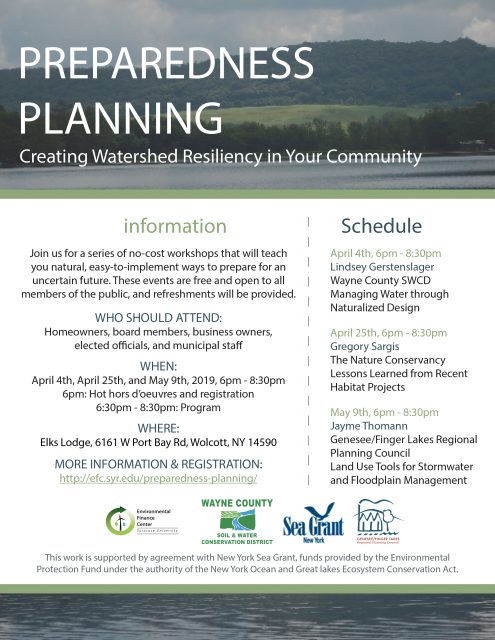 May 9th Preparedness Planning Workshops: Creating Watershed Resiliency in Your Community
A series of free workshops are being held at the Elks Lodge in Wolcott, NY to help homeowners, board members, municipal staff and anyone else who is interested to learn about easy ways to prepare for an uncertain future within their community.
Register now by clicking this link:
 https://goo.gl/forms/8hMbRLQkUdW7JfJu1
Or register by phone: Kathy Forrest, (315)443-1131
When: May 9th, 2019, 6pm – 8:30pm
6:00pm: Hot hors d'oeuvres and registration
6:30-8:30pm: Programs
Where: Wolcott Elks Lodge
6161 W Port Bay Rd
Wolcott, NY 14590
May 9th, 6pm – 8:30pm
Jayme Thomann, Genessee/Finger Lakes Regional Planning Council
Land Use Tools for Stormwater and Floodplain Management
Who Should Attend:
Homeowners, municipal board members, business owners, elected officials, and municipal staff.
This work is supported by an agreement with New York Sea Grant, funds provided by the Environmental Protection Fund under the authority of the New York Ocean and Great Lakes Ecosystem Conservation Act.