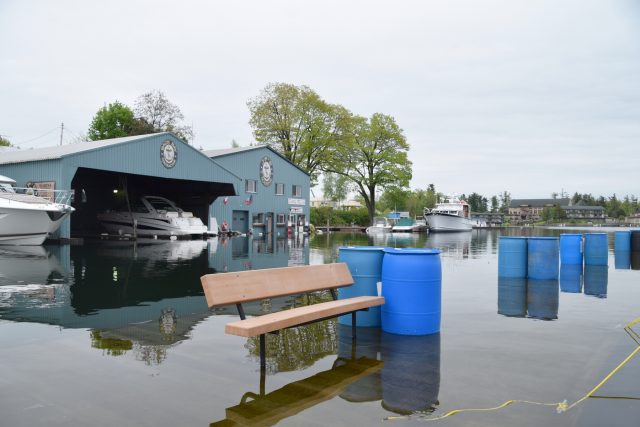 The U.S. Coast Guard needs your assistance!
With the increased water levels throughout the region, and along Lake Ontario and its tributaries in particular, many homeowners are using barrels such as these to mark their docks and assist in weighing them down, an understandable thing to do and one that helps also by increasing the safety of the waterway by helping mark potential hazards posed by otherwise submerged/unseen docks.
What homeowners probably do not realize is that if these barrels are swept off docks and float away, they then become a concern that the Coast Guard has to dedicate time, money and resources to recover.
Once adrift and if unmarked, by law, the Coast Guard has to classify such drums as "Mystery Drums" because contents are unknown and could possibly contain dangerous chemical or petroleum products. Significant diligence is required in processing these sorts of unidentified containers, up to and including the services of a hazardous material contractor to recover the drum out of the waterway and verify there is no risk to the public or environment from the contents – at costs that may exceed $5000 per drum.
Additionally, Coast Guard personnel are required to stay on scene with the mystery drum, thus taking away an asset from other local emergency responses.
We are requesting homeowners assist us in marking barrels they have placed on their docks by painting or marking a large red "X" on the drum so that Coast Guard crews can quickly identify it as a non-hazardous dock drum and allow its origin/contents to be resolved without the need of further specialized investigation. This will also allow Coast Guard boats and people to be available for pressing search and rescue or other maritime emergency cases in the region, continuing our tradition of service to the public.
Any questions can be answered via phone at the Sector Buffalo Command Center (716) 843-9527.
Thank you for your assistance.