Let's Talk Lake Ontario Webinar Series – Green Stuff in the Water: No Day at the Beach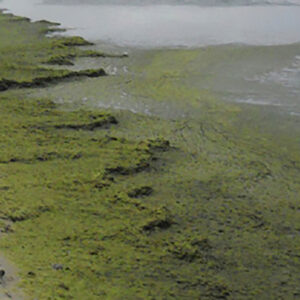 Join the Lake Ontario Partnership for a one-hour webinar talking about Cladophora! Wednesday, November 17th Noon – 1:00 P.M.
What is Cladophra
Cladophora are those green mats of algae in the water that you may have seen on beaches and along shorelines in Lake Ontario. While Cladophora is necessary for a healthy ecosystem, when nutrient levels in the water are too high—i.e., from lawn fertilizers, agricultural and urban runoff, and septic and sewage treatment systems—we see too much Cladophora growth. This can present aesthetic and odor issues that impair recreational uses of the lake, as well, decaying Cladophora harbors bacteria that can pose health threats to humans, fish, and wildlife.
Link to join: https://meetny.webex.com/meetny/onstage/g.php?MTID=e2314291261b79dedf2f9a22a20369aa6
Event number: 161 404 9404
Event password: welcome1
Guest speakers
David Depew, Research Scientist, Environment and Climate Change Canada,  Mary Anne Evans, Research Ecologist, United States Geological Survey, Greg Ford, Great Lakes Water Monitoring Manager, Niagara Coastal Community Collaborative

Agenda
12:00 – 12:05 Welcome
Moderator: Emma Tahirali, MECP
12:05 – 12:15 State of Lake Ontario overview
Luca Cargnelli, ECCC; Kristina Heinemann, US EPA
12:15 – 12:25 Introduction to Cladophora in Lake Ontario – What is it and why it's a problem
David Depew, ECCC
12:25 – 12:30 Nutrient management
Luca Cargnelli, ECCC; Kristina Heinemann, US EPA
12:30 – 12:40 Cladophora monitoring work
Mary Anne Evans, USGS
12:40 – 12:50 Community/citizen science profile: The Visual Assessment Survey Tool
Greg Ford, Niagara Coastal Community Collaborative
12:50 – 12:55 Audience Q&A
Moderator: Emma Tahirali, MECP
12:55 – 1:00 News you can use
Dr. Joan Kennedy, DEC; Emma Tahirali, MECP