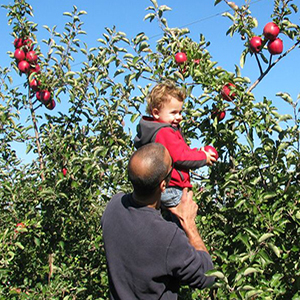 The final verdict will not be in until after the harvest, but New York apple growers are expecting a below-average crop yield this fall. The months-long drought will not result in the bumper crop of apples we saw last year. And the fruit will look and taste different, too.
"What you will see in the marketplace is possibly a little bit of a smaller-sized apple," said Jim Allen, president of the New York Apple Association. "The good news is it'll be a sweet apple. Drier weather always makes sweet products."
Wayne County is the number one apple producing region of the state. Niagara County east to Rochester ranks third. Western New York has been hit harder by the drought than the Hudson Valley, which produces the second-largest apple crop.
"We're planting very high-density plantings now, anywhere from 1,200 to 2,200 trees per acre," Allen said. "When you put that many trees on an acre of land, there's a lot of competition for moisture."
Last year saw a larger-than-normal New York apple crop, of just over 32 million bushels. Allen is estimating that 27.5-28 million bushels will be picked this fall, compared to a five-year average of 29.5 million.
Reprinted from WBFU News