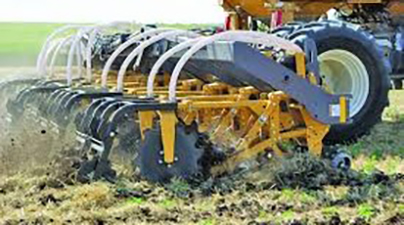 You are cordially invited to attend the 2019 4R Technical Field Day at SUNY Morrisville.
4R is an approach to agricultural nutrient management and soil and water stewardship that emphasizes using the Right Source of Nutrients at the Right Rate and Right Time in the Right Place for the protection of New York's waterways
But it's more than just a catchy buzz phrase. The approach provides a science-based framework for plant nutrition management and sustained crop production while considering specific individual farms' needs.
The 2019 4R Field Tech Day will highlight existing 4R Programs and technologies. The 4R Field day counts towards required 4R Training as required by 4R NY Nutrient Stewardship Certification and offers 5.5 hard-to-find CCA credits. Plus Free lunch!
Date: October 15, 2019
Location: SUNY Morrisville Campus, Morrisville, NY
Address: 80 Eaton St, Morrisville, NY 13408
Agenda:
All morning sessions will take place in Charlton Hall
* 8 a.m. Registration and coffee
* 9:00 a.m. Welcome, Jen Gilbert Jenkins SUNY Morrisville
* 9:15 The 4R Program, Sally Flis, TFI Director of Agronomy, NYSABA Pres.
* 9:45 NRCS programs available to support the implementation of 4R strategies, NRCS speaker
* 10:10 TNC, 4R, and Conservation, Gregg Sargis, TNC
* 10:35 Precision Ag Map- Extracting value from different map layers- Avery DeGolyer, WNY Crop Management, CCA
* 11:00 COFFEE BREAK and transportation to demo 1
* 11:30 Environmental Tillage Systems- Soil Warrior- demo
* 12:15 Lunch (including transportation to lunch and then back to demo sites after lunch)
* Afternoon Demonstrations will take place in fields around the Morrisville Dairy Complex
* 1:30 – 3:00 Rotating 20-minute demonstrations including soil sampling technology from Western New York Crop Management and Growmark FS, Sprayer Calibration and Drone imaging demonstrations by Cazenovia Equipment Company, INC, Cover Crop roller demonstration by SUNY Morrisville and more!
* 3:00 Transportation back to an original parking lot
CCA Credits- 1.5 NM, 3.0 SW
This event is free and open to the public, but registration is required. To register:
https://4rtechnicalfieldday.eventbrite.com