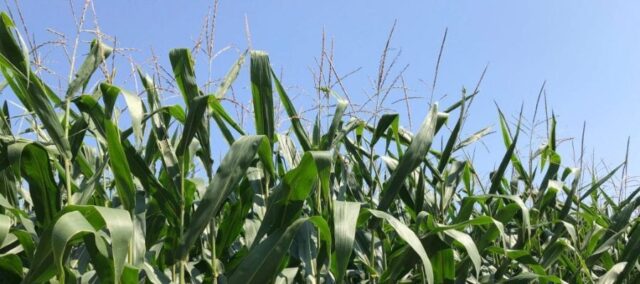 The Cornell Cooperative NWNY Dairy, Livestock, and Field Crops Team will be working with Keystone Mills in Romulus, NY to put on a Dry-Down Day on September 3rd, 2021 from 10:00am to 2:00pm.  Farmers in the local area are encouraged to cut a bundle of 3 stalks from each corn field that they would like to be tested for dry matter, and bring them to the mill between 10:00am and 2:00pm on that day.
What:  Seneca County Regional Dry-Down Day
When:  September 3, 2021
Time:  10:00am – 2:00pm
Location: Keystone Mills
1975 State Route 336
Romulus, NY 14541
CCE NWNY team members will be there with a wood chipper to chip down the stalks and several drying options to determine the current dry matter of whole corn plants.  Based on the dry matter percentage of your corn stalks, we will be able to provide you with an estimate of your optimal harvest date.  There will not be a formal presentation, though information on best management practices for 2021 Corn Silage Harvest will be provided.  You do not have to wait around to get your results, but feel to take advantage of the opportunity to ask your questions and have some refreshments.  There is no cost for this program, and all are welcome to attend.
Sampling details:  Sample corn stalks should be from a representative area in the field, and should be cut the morning of September 3rd at the height you plan to set your chopper.  If you are unable to bring your stalks to the mill during the dry down timeframe, please reach out to Margaret Quaassdorff (585-405-2567) to make a plan before the 3rd to get your samples picked up.
Free coffee and baked goods will be provided by Keystone Mills.