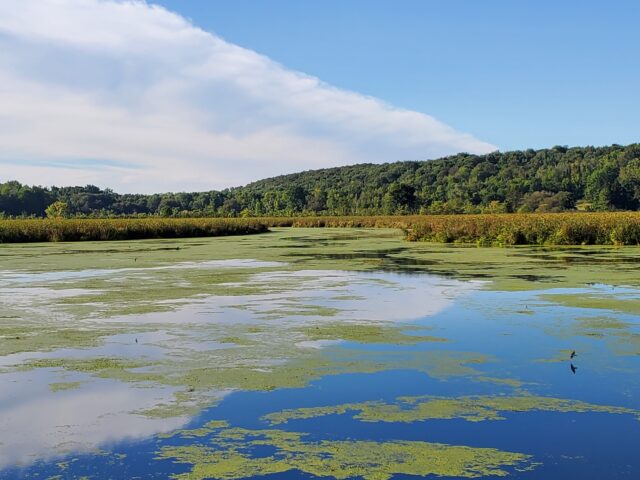 Water levels are beginning to taper off with an average at 245.35 at local south shore Lake Ontario stations this week and will be losing a few more inches of water on Lake Ontario in the next few weeks according to US Army Corps of Engineer projections. Click here for USACE Forecast
Local water levels on bays will continue to be low and will increase and decrease from upland watershed flows and wind events which will last up to 36 hours before calming.  Monitor boat slips, and other watercraft regularly.   Wind events in the last two weeks have been the culprit for surface weed exposure, creating floating bogs and break off.
Floating Duckweed can help alert boaters to areas of weed concentration as the Duckweed collects at the surface. Shown in the photos below.  This time of year, weed populations are dying off due to the cooler temperatures and the increased disturbance from wind/rain events. (click on images for larger view)
Water Quality Show & Tell 9.9.2021
The SWCD Weed harvesting program continues to address weed mats and floating areas.  This year's focus has been on flow and circulation as many of the areas are too shallow to adequately access fully loaded.  The last week, the Crew has focused on South of Port Bay area, closest to Wolcott Creek Inlet to open up water flow for the fall and winter season.  The crew is going to make its way north and clear out the cove areas on Port Bay after surface control of breakoff mats from this last week's storms and back to Sodus Bay to address areas where collection mats have floated into tributary outlets and coves.