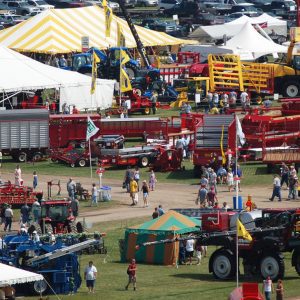 Seneca Falls, NY. On August 7-9, 2018, Rodman Lott and Son Farms at 2973 Route 414 in Seneca Falls, NY, becomes a showcase of shiny new agricultural equipment for test driving and in demonstrations, fields with new cover crop mixes to beat the summer heat and attract pollinators, Dairy Profit Seminars, beef cattle and horses, farm youth showing their tractor driving and welding skills, and much, much more.
Empire Farm Days show hours are Tuesday and Wednesday 9 am to 5 pm, and Thursday 9 am to 4 pm. Admission is free, parking is $10/vehicle. Directions to reach the showgrounds by automobile and airplane, and programming details and schedules are posted at www.empirefarmdays.com. For more information, call 877-697-7837.
New activities and highlights for the 2018 Empire Farm Days event that is the largest outdoor agricultural trade show of its kind include the following:
• Field Demonstrations Add Manure Application Options for Less Odor
The demo will highlight methods that reduce odor and runoff and retain nutrient value. Side-by-side demos include dribble bars, grassland tool, disks, shanks.
• Stone Grinder and Forestry Mulcher demonstrations
• Test Drive Applicators, Tractors, Trucks, Heavy Equipment, UTVs
• Cover Crop Demos: Options for Summer Stress Tolerance, Pollinators, Compaction
Side-by-side plots with options for dairy, crop and vegetable farmers with single cover crop species as well as mixes of stress-tolerant summer annuals, good combinations for dealing with compaction and adding organic matter, 3 pollinator-friendly mixes, and 4 blends for use after small grain or vegetable crops. Daily plot tour at 10:30 am.
• Soil Health Speakers:
. Tuesday: Dr. Sally A. Flis, Director of Agronomy, The Fertilizer Institute, Washington, DC
. Wednesday: Cornell Soil Science Professor Dr. Harold M. van Es, Building Soils for Better Crops co-author
. Thursday: Cornell University Cooperative Extension Regional Field Crops
Specialist Michael E. Hunter, a Resistance Management Specialty-certified Certified Crop Advisor.
• Tuesday-Only: "New Alfalfa Genetics for Forage Quality and Tips for On-Farm Forage Program Consistency" with Alfalfa & Forage Expert Tom Kilcer of Advanced Ag Systems: Registration preferred to www.FGIFieldDays.com; walks-in welcome.
• One Free DEC Credit Available: Daily 9:30 am Worker Protection and Pesticide Training
• Falcon Automated Soil Sampler Demonstrations
• Get a Bird's Eye View: Quadcopter Demonstrations
• Dairy Profit Seminars:
. Three Dairy Herd Management Strategies for Challenging Times
. Data to Dollars: Making More Money from DHI Records and Milk Samples; and
. Changing Times, Changing Consumers: Telling Dairy's Story.
• Beef Up Your Farm Enterprise
Daily programs on cattle handling system design, animal evaluation, preconditioning, and safe cattle handling. Tuesday-only: Beef Quality Assurance training, 4-7 pm, must pre-register with NY Beef Council, 315-339-6922.
• Equine Programs Will Inspire You to Adopt A Horse
. Tuesday: Finger Lakes Thoroughbred Adoption Program
. Wednesday: From Wild to Mild with Jack and Emma Minter and their American Mustangs of Rose Hill Ranch
. Thursday: Begin Again Horse Rescue with miniature horses.
• New Programming for Livestock Producers
Feeding for Top Line and Body Condition, Safe Handling of Cattle, Simple Solutions for Electric Fencing, and Worry-Free, Frost-Free Watering.
• New Invasive Species, Grapes & Hops Program
Daily at 10:30 am at Craft Beverage Center with Patty Wakefield Brown of the Finger Lakes Institute and Finger Lakes PRISM, includes how to identify and report Spotted Lanternfly.
• Instagram stars, the NY Farm Girls
• Announcement of 4R Nutrient Stewardship Management Initiative
by NYSABA, The Fertilizer Institute, and The Nature Conservancy. Commercial fertilizer dealers and agricultural applicators will be invited to voluntarily participate in a 4R Nutrient Stewardship Certification program
• Farm Family Safety and Fun
Visit Farm Bureau Family Education Center, New York Center for Agricultural Medicine and Health (NYCAMH) Safety Center, NYS Grange, and the Empire Farm Days pond for farm family fun activities and safety education. Try a pedal- drive kayak or standup paddleboard on the water!
More details on all of these programs, directions, daily schedules, and more are posted online on Facebook, Instagram, and www.empirefarmdays.com.
The Empire State Potato Growers started this event as the Potato Field Days in 1931 and have steadily grown it into an agricultural extravaganza with more than 65,000 farmers, agriculturists, and rural living enthusiasts attending each year. Admission is free, $10 per vehicle parking.
MEDIA CONTACTS:
. Empire Farm Days Show Manager Melanie Wickham, 585-526-5356
. EFD Publicist Kara Lynn Dunn, 315-465-7578, karalynn@gisco.net