ONTARIO-WAYNE STORMWATER COALITION STANDARD OPERATING PROCEDURES BEING DRAFTED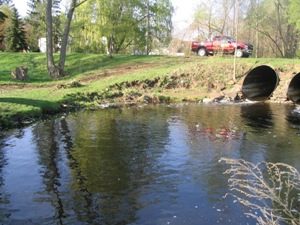 In order to better fulfill the purpose and function of the Ontario-Wayne Stormwater Coalition, a series of Standard Operating Procedures are being drafted to provide a rubric for necessary inspections, handling of potentially polluting materials, housekeeping standards, and other issues related to the tasks common to stormwater management.
Stormwater Management Fact:

Typical stormwater pollutants are Nutrients ( Nitrogen & Phosphorus), Suspended Solids, Sediments, Oil & Greases (PAHs), Bacteria, Pesticides & Fertilizers, Temperature, Metals (Copper, Zinc, Lead, and Cadmium)
The fifteen Standard Operating Procedures currently in draft form are being reviewed by a committee of the Ontario-Wayne Stormwater Coalition to determine their applicability to stormwater management in the two counties.
A series of check-off inspection and reporting sheets accompany the Standard Operating Procedures and will be helpful in both identifying and assessing the scope of problems; and in reporting remediation or steps taken to ensure any issues are resolved.
Sharing services, expertise and information allows the members of the Ontario-Wayne Stormwater Coalition to function quickly, efficiently and cost-effectively to protect the water quality of the areas they serve.
(Draft)
INDEX OF STANDARD OPERATING PROCEDURES
Outfall Inspections:
SOP 1: Dry Weather Outfall Inspection
SOP 2. Wet Weather Outfall Inspection
Housekeeping
SOP 3: Catch Basin Inspection and Cleaning
SOP 4: Spill Response and Cleanup Procedures
SOP 5: Fuel and Oil Handling Procedures

SOP 6: Oil/Water Separator Maintenance
SOP 7: Storage and Use of Pesticides and Fertilizers
Construction:
SOP 8: Construction Site Inspection
SOP 9: Inspecting Constructed Best
Management practices
SOP 10: Erosion and Sediment Control
Illicit Discharges
SOP 11: Locating Illicit Discharges
SOP 12: Water Quality Screening in the Field
Training
SOP 13: Stormwater Pollution Prevention and Good Housekeeping
SOP 14: Minimizing the spread of Alien Invasive Species
SOP 15: Private Drainage Connections
Download the most MS4 2015 Spring Newsletter