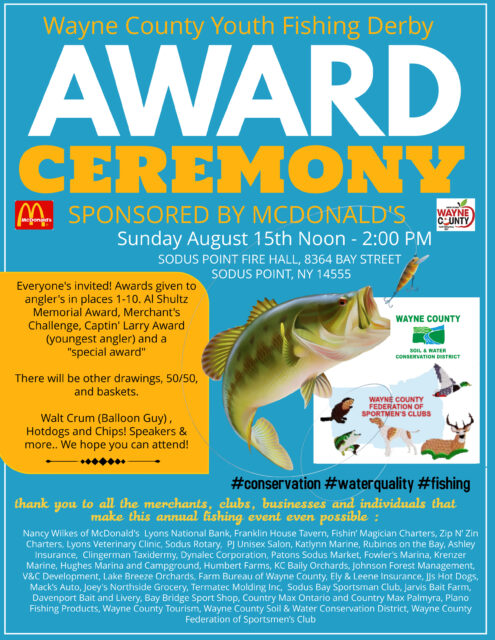 Please join the District and the Wayne County Federation of Sportsmen's Clubs on August 15th for the Wayne County Youth Derby McDonald's Awards Ceremony at the Sodus Point Fire Hall. Noon – 2:00 P.M. Everyone is invited. Walt Crum will be there, along with the NYS DEC and the Finger Lakes PRISM folks. This year we have 6 young anglers that won the Al Shultz Memorial Challenge ( Ages 4-7), six anglers age 4 will receive the Captin' Larry award and two anglers won the Merchant's Challenge. In the Species Challenge, anglers in places 1-10 will receive an award.
Hotdogs and chips, 50/50, Donated baskets, and special recognition for one youth angler. Even if you did not catch any fish you can still win. We have lots of prizes. Congrats to all!
We would like to thank ALL of the Merchants, Businesses, Clubs, and Individuals who help make this event happen each year! Fish are an indicator of good water quality and this year we had over 180 fish caught!
Nancy Wilkes of McDonald's  Lyons National Bank, Franklin House Tavern, Fishin' Magician Charters, Zip N' Zin Charters, Lyons Veterinary Clinic, Sodus Rotary,  PJ Unisex Salon, Katlynn Marine, Rubinos on the Bay, Ashley Insurance,  Clingerman Taxidermy, Dynalec Corporation, Patons Sodus Market, Fowler's Marina, Krenzer Marine, Hughes Marina and Campground, Humbert Farms, KC Baily Orchards, Johnson Forest Management, V&C Development, Lake Breeze Orchards, Farm Bureau of Wayne County, Ely & Leene Insurance, JJs Hot Dogs, Mack's Auto, Joey's Northside Grocery, Termatec Molding Inc,  Sodus Bay Sportsman Club, Jarvis Bait Farm, Davenport Bait and Livery, Bay Bridge Sport Shop, Country Max Ontario and Country Max Palmyra, Plano Fishing, Wayne County Tourism, Wayne County Soil & Water Conservation District, Wayne County Federation of Sportsmen's Club in the Sodus Point volunteer fire department  for allowing them to use their fire hall
#waterquality #conservation #fishing