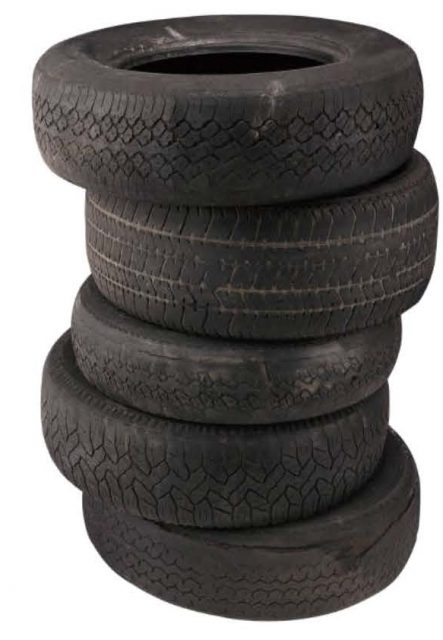 According to the US Federal Highway Administration, approximately 280 million tires are discarded each year by American motorists, approximately one tire for every person in the United States. Around 30 million of these tires are retreaded or reused, leaving roughly 250 million scrap tires to be managed annually. About 85 percent of these scrap tires are automobile tires, the remainder being truck tires. Besides the need to manage these scrap tires, it has been estimated that there may be as many as 2 to 3 billion tires that have accumulated over the years and are contained in numerous stockpiles
Improper tire disposal creates various health and safety concerns. Illegal tire dumping can pollute streams, woods, roadsides, and other public land and fires can start if tire pile up that can potentially release chemicals into the air and ground. In addition, tire dumps also become breeding grounds for vermin and mosquitoes.
Wayne County Soil and Water Conservation District and Ontario – Wayne Stormwater Coalition tire recycling scheduled
Thursday October 24th 8:00 A.M. – Noon.
1700 Daansen Road, Macdeon 14522
Wayne County Soil and Water Conservation District is providing a tire recycling event at no charge for Wayne County residents.
Participants may drop off tires on Thursday, October 24th 2019, from 8 am to noon at the Wayne County Highway Department 1700 Daansen Road, Macdeon 14522
There is a limit of 4 tires per drop-off.
This is an opportunity for people to remove used tires from their property and help to eliminate potential disease-causing mosquito breeding sites.
Event restrictions:
Sign-up is required by contacting WCSWCD at 315-946-7200. Be prepared to provide your name, residence address and the number and type of tires you plan to recycle.
Only tires from Wayne County residents will be accepted.­
Tires must be removed from the metal rim and free of water, mud and other debris.
Tires accepted are limited to light truck, passenger and smaller sized tires.
 No BIG TRUCK OR TRACTOR TIRES.
4 tires per drop-off.
Other types of recyclable materials will not be accepted.
Download a flyer here, call 315-946-7200 to make your reservation or use the online form below: