Product Description
Fern Pack – Cinnamon, Christmas, Ostrich, Maidenhair, New York
38.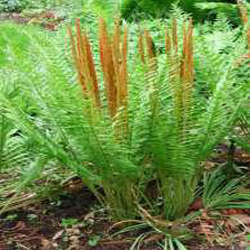 Cinnamon Fern Osmunda cinnamomea – 2-5′ tall, non-evergreen fern . First foliage appears as Cinnamon sticks. Later producing leaves that are deep waxy green. Prefers acid soil, up in late April dormant in September.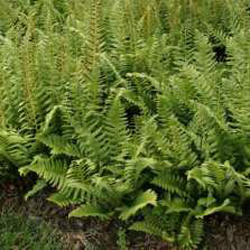 39. Christmas Fern Polystichum acrostichoides -1-2′ tall, full evergreen dark green in color requires shade to partial shade. Prefers neutral to acid soils .
40. Ostrich Fern Matteuccia struthiopteris – 3-6′ tall, rich green fern . Light shade to partial sun preference . Applications along ponds and low wet are ideal areas .
41. Maidenhair Fern Adiantum pedatum – 18″ tall, delicate fern. Lacy, soft leaf grows rapidly. Cannot tolerate dry soils, and prefers neutral and moist soils . Dies back in Sept ember.
42. New York Fern Thelypteris noveboracensis -18″ tall semi-evergreen hardy fern. It likes dryer soils. New York fern has yellow-green leaves that spread rapidly . This is a good groundcover, and requires shade to partial sun.