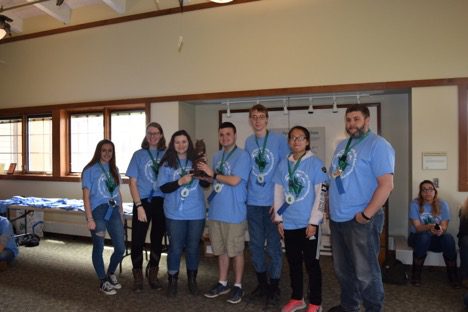 Congratulations to the North Rose Wolcott High School team for taking first place in the 2019 Wayne County Envirothon. The team was led by teacher and environmental enthusiast Mr. Nick Wojieck. The team members included:  Bella DeFeo, Lucy Zhang, Shea Shattuck, Kennedy Jones, Phil Ufholz, and Jacob Smith. This was the third year North-Rose Wolcott had competed.
This year, the Montezuma Audubon Center in Savannah N.Y. hosted the seven teams. Students competed from four high schools across the Wayne County that included: Wayne Central High School, North Rose-Wolcott HS, Red Creek High School and Wayne Technical and Career Center.
Second place was awarded Red Creek led by their teacher Mr. Terry Elmer, Third Place was awarded to the Red Creek Rams, led by their teacher Mr. Joseph Bonanno with a brand new team for 2019.
After years of rain and snow during past Envirothon competitions, this year was a bright and sunny day at the Montezuma Wildlife Center. Each team consisted of three to five-members. The teams participated in a series of field station tests that focus on five topic areas of conservation– soils and land use, aquatic ecology, forestry, wildlife, a current environmental issue, this year being Agriculture and the Environment: Knowledge and Technology to Feed the World.
In addition to the five field stations, each team must present their solution to a problem related to the current issue to a board of judges.  The population of the Earth is estimated to be approximately 9 billion by the year 2050. One of the primary concerns for the agricultural industry is how will farmers be able to grow enough food to feed this growing population, while also protecting natural resources such as soil, water, air, wildlife, and forestry resources.  Students gave presentations on the concepts of how agriculture and all natural resource areas are interrelated, and how the use of new technologies are key to increase food production. Key topics included:
Understand the importance of moving toward sustainable farming systems to conserve natural resources, mitigate climate change, reduce erosion and protect water quality and quantity, and promote pollination;
Comprehension of farming practices that build soil organic matter such as composting, crop rotations, cover crops, conservation tillage, and management intensive grazing systems to improve soil health;
Understand integrated pest management and biological pest control techniques used to prevent insect pest, disease, and weed problems;
Understand the role of new technology: agricultural biotechnology; precision agriculture; and using UAV (drones, GIS, etc.) to increase farm efficiency for food production.
Envirothon is designed to give students the opportunity to learn about environmental issues and natural resources by conducting tests in the field. Often times this experience becomes a lifestyle for students and goes beyond competitions—it encourages students to be actively engaged in the environment around them at all times. Many students move onto careers in the conservation and environmental fields.
The District couldn't put on a successful youth conservation program without our many sponsors. Special thanks go to the area businesses that made donations. Their support assisted in the purchase of Envirothon T-shirts, educational prizes and awards. Area sponsors included Wayne Pomona Grange, Lyons National Bank, Lyons Veterinary Clinic, Galens Pharmacy, RoadTek LLC, Wayne County Farm Bureau, Wegmans Newark, Thorpe Vineyard, and Clingerman Taxidermy.  In addition, recognition goes to Montezuma Audubon Center Director Chris Lajewski and the many volunteers at the Center that assisted in the event.
The North Rose Wolcott team will move on to compete at N.Y. State competition held at the Hobart & William Smith Colleges in Geneva, NY on May 22 & 23rd. Good luck and GO TEAM!
###