Unfortunately we are forced to cancel this workshop.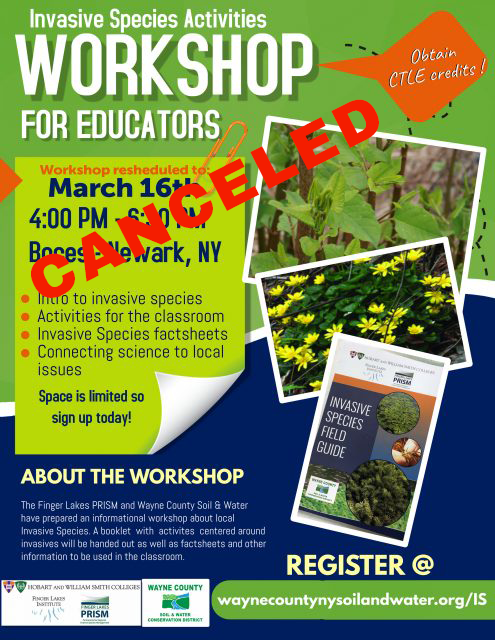 The Wayne County Soil & Water Conservation District and Finger Lakes – Partnership for Regional Invasive Species Management (FL-PRISM) would like to invite Middle School educators to an "Invasive Species Activities Workshop" in Newark, NY at the Conference Center @ Wayne – Finger Lakes BOCES. The workshop is from 4:00 – 6:30 pm on Monday, March 16th. Refreshments and subs will be served. Registration is required.
This FREE program will provide middle school
educators a basic introduction to invasive species
ecology along with hands-on activities and
resource materials for the classroom.
The Wayne County SWCD and FL-PRISM have worked together extensively to provide both formal and informal educational materials for schools, municipalities, and residents of Wayne County.
Teachers will receive 2.5 hours of CTLE credit for attending. Space is limited to 12. To register and to review the tentative program agenda, please visit www.waynecountyNYsoilandwater.org/is/#workshop
Registration closes on Thursday March 12th, 2020.