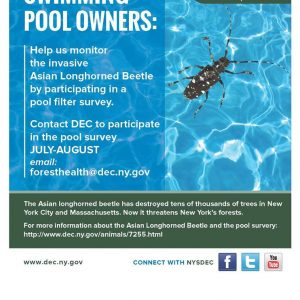 Pool owners are invited to join in the New York State Department of Environmental Conservation (DEC) fourth annual Asian longhorned beetle (ALB) Swimming Pool Survey now through August 30 to help keep watch for these exotic, invasive beetles before they cause serious damage to our forests and street trees. The Citizen Pool Survey takes place this time of year when ALBs are expected to become adults, emerge from the trees they are infesting and become active outside those trees. (Longhorned Beetle Poster)
Monitoring Pool Filters for Asian Longhorned Beetles Can Prevent Infestation and Help Protect Trees and Forests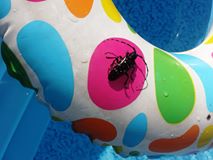 ALBs are originally from Asia and have caused the death of hundreds of thousands of trees across the nation, particularly in maple trees in New York City, on Long Island, in New Jersey, Chicago, Illinois, Worcester, Massachusetts and Clermont, Ohio. DEC's Forest Health Program developed a simple and easy survey to track ALBs for homeowners who have swimming pools and are willing to keep an eye out for these insects.
Pool monitoring offers a simple, economical alternative to traditional procedures for surveying ALBs in the state. It also has the potential to become New York's most effective method for detecting ALBs. In addition, this monitoring program gives residents the ability to take an active role in protecting trees in their yards, communities and forests.
With citizens involved in looking for this pest, there is a better chance of finding new infestations early, helping DEC and other state and federal agencies focus their efforts to eliminate infestations.
In addition to owning a swimming pool, participants will need:
A digital camera.
An e-mail address.
The ability to send a photo via email or text message.
READ MORE  FOLLOW THIS LINK