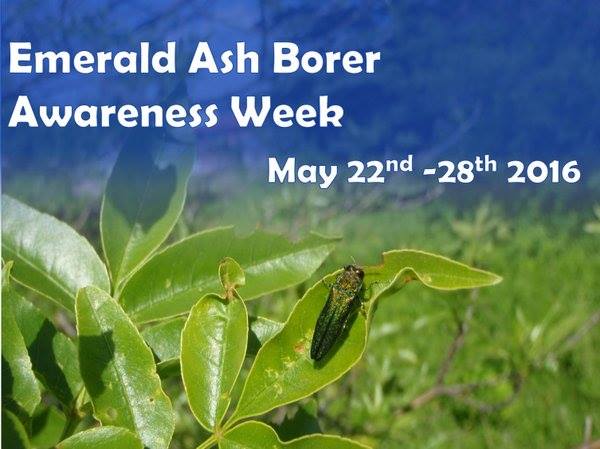 Residents Urged to Become Aware of Emerald Ash Borer and Report Infestations to DEC
The Sixth Annual Emerald Ash Borer (EAB) Awareness Week is now underway, running from May 22 – May 28, 2016, New York State Department of Environmental Conservation (DEC) Acting Commissioner Basil Seggos announced today. In observance of EAB Awareness Week, Governor Andrew M. Cuomo issued a proclamation urging all New Yorkers to exercise environmental stewardship to protect trees from infestation that can be devastating to landscapes, habitats and forest product industries. State residents and visitors are encouraged to learn as much as possible about the emerald ash borer, how to prevent its spread and the destruction it causes to trees.
"EAB Awareness week is an opportunity to inform the public about the various means through which this invasive beetle is commonly spread and encourages them to join the fight against them by reporting any signs of infestation they witness," Acting Commissioner Seggos said. "With the beginning of camping season in full swing it is important to remind travelers to New York State to use only local firewood. The spread of these insects, and other forest pests, has been dramatically increased through human transport."
State Agriculture Commissioner Richard A. Ball said, "Emerald Ash Borers have already destroyed millions of ash trees in New York and they will continue to be a serious threat unless we take action. During EAB Awareness week, I encourage everyone to take small steps to help prevent the spread of this invasive species and protect New York's millions of ash trees."
As part of EAB Awareness Week, DEC, the Department of Agriculture and Markets, Cornell Cooperative Extension, the Office of Parks, Recreation and Historic Preservation and volunteers will work to educate every county across the state about the invasive beetle and combat its spread.
The emerald ash borer, first discovered in New York in 2009, is an invasive insect that kills all types of ash trees. Twenty-four counties in New York currently have infestations and state agencies are working diligently to stop the movement of beetles out of these areas in firewood and other wood products. Tens of millions of ash trees have been killed in the United States by the emerald ash borer and all of the hundreds of millions of ash trees in New York are at risk.
To help slow the spread of EAB, all citizens are asked not to move firewood and to look for and report the signs of the beetle on ash trees. Citizens should be aware of New York State's firewood regulations, which restrict the movement of untreated firewood to 50 miles, and EAB quarantines, which prevent the spread of potentially infested materials.
DEC is continuing to pursue and promote a strategy called Slow Ash Mortality (SLAM) to slow the spread of EAB within the state and mitigate its devastating economic and environmental impacts. DEC's SLAM strategy encompasses a variety of approaches including removing infested trees, defining and monitoring infestation boundaries more precisely, and researching insecticides and organisms that will kill the insect.
DEC conducts surveys to determine the extent of existing and new infestations and works with local communities to devise appropriate management responses. To report possible infestations, fill out the Emerald Ash Borer Survey Form. For more information, visit the DEC's Emerald Ash Borer web page, or call DEC's toll-free hotline at 1-866-640-0652.