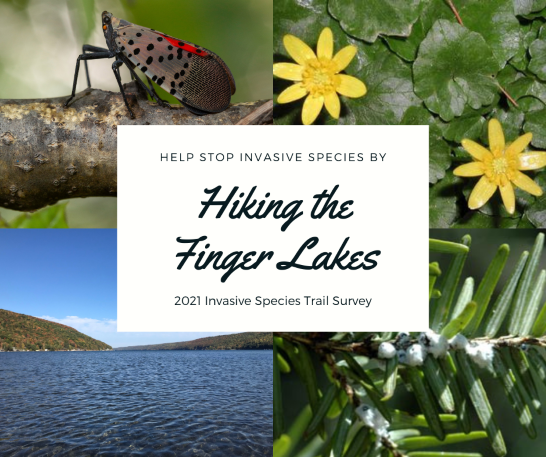 The Finger Lakes PRISM (Partnerships for Regional Invasive Species Management ) is looking for VOLUNTEERS to help them search for invasive species while you hike your favorite trail.
Invasive species lead to IRREVERSIBLE economic, environmental, and cultural damage. Some invasive species that you might be familiar with include the Spotted Lanternfly, Brown Marmorated Stinkbug, Japanese Knotweed, and Garlic Mustard.
HOW can you help? – Well.. it's pretty simple, all you have to do is hike a trail and note the invasive species you see about every 50 feet. Upload what you see to the iMapInvasives app on your phone (https://www.nyimapinvasives.org/), and keep checking every 50 feet along the trail.
HOW do you start?  – Start by registering for "Terrestrial Surveying" here": https://forms.gle/jV1WgMU8mPBJkAGNA . By registering the Finger Lakes PRISM can send updates on invasive species to watch out for.
Also, join the Facebook group, where photos can be shared and identified and questions can be asked.
PRISM will be hosting training sessions in May to teach you how to IDENTIFY invasive species, SURVEY along the trail, and REPORT what you found using the iMapInvasives App.
As this is a volunteer program, there is no commitment to how often you need to survey, or what you need to look for, or where (although we will have suggestions if you're unsure!).